A handful of places on Earth have captivated the world of tourism, and Bali in Indonesia is one amongst them. The rainforests, shorelines, traditions, and customary cuisines, have spelt magic amongst the adventure-seeking vacationers.
Each year, the graph reaches the point of ultimatum concerning the visitors! But, barring this overcrowdedness, if you are on a quest to seek adventure, and yet experience certain new-fangled things in life, then get a map and start your self-exploration journey.
Get Pampered via Sound Healing

The spiritual epicentre of Bali, Ubud has transformed into a focal point of wellness, healing, and self-care centre of late. Pyramids of Chi has created a niche in the tourism industry, thus symbolising Egypt's Giza.
This whole arena has something to do with the flow of space energy and healing via sound!
Hippy Expat's Chocolate Factory Will Make You Swing!!
A funky Californian curator and the Chocolate Factory at the Eastern region of Bali shoreline will make you swing!! An almost 2 hours' drive down the sleepy alleys of Bali, leads to this factory.
Here you are welcomed with a specially handcrafted coconut oil soap and a ticket of mere 75 cents (10,000 Rupiah!). Roam around the place, while sampling the exquisite varieties of dark chocolates and posing for photos to cater to your social media's needs!
Do not miss taking a swing on the famous tree trunk overlooking the beach.
Nyepi's Holiday, A Lifetime Balinese Experience

Name a holy place, and Bali tops the list. Yes, you are right! Bali is a profoundly spiritual place, and Nyepi's holiday is nothing but sacred and also extraordinary during this time of the year.
Every year's March 17th is celebrated to commemorate this auspicious occasion, following the lunar chart. At this day, there is no work, no travel, or even talking amongst the locals.
The renowned Ngurah Rai International Airport closes down altogether, too. It is thus a lifetime experience to witness Bali transform into a ghost town!
'Secret' Waterfall's Quest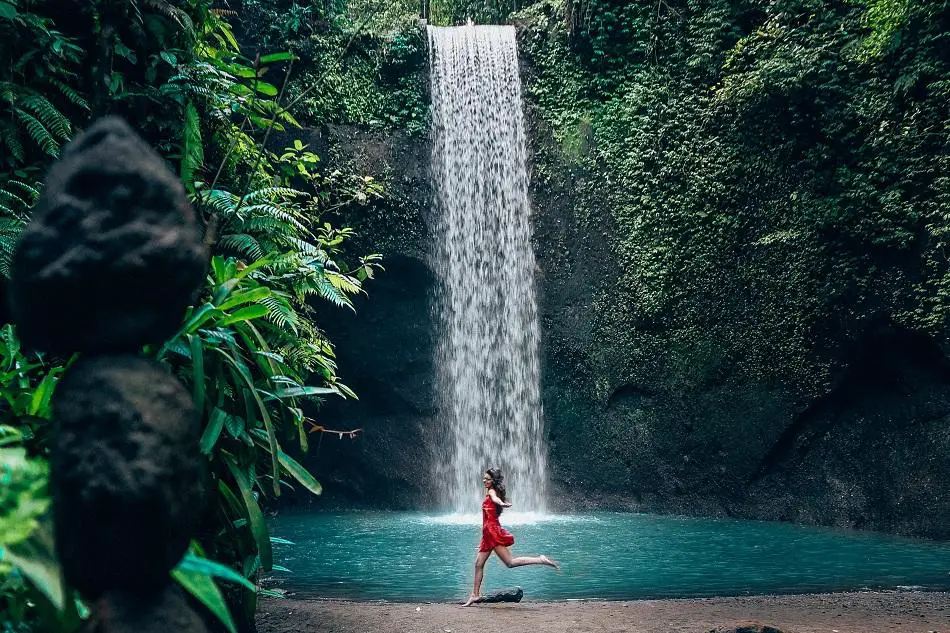 Get into your hiking gear and try catching the morning's rays, by hitting the 'secret' waterfall near Ubud.
Bali is generally known for its variants of waterfalls, but this one caters as the epicentre for tourists. While hiking your way down, you will come across dozens of small hamlets till you reach the waterfall's gorge. The place is a real treat to your eyes!
A Morning Well Spent Viewing the Surfers

Though not getting tagged to be the most authentic place to visit, Canggu village has turned into a real hotspot amongst vacationers these days. Not really by the tourists, but it is a surfers' paradise! And to top this off, all the various bistros serve cold beer along with Shady Shack (a dish made of Dragon fruits).
Once there, do not forget trying the Crate cafe (toasted avocado served with feta cheese and peas). Get a good tan and watch the surfers shredding the waves with full energy.
Mountain Hike at Dawn

The local guides will escort you for a sunrise tour at Mount Batur. Instead, feel relaxed by envisioning the epic view you will be witnessing, once you have summited a holy volcano, during sunrise!
The whole day is there for you to grab a wink, once you hit the coastlines.
Island Hopping Done Right

Spending a couple of nights at the Gili Islands is quite a common detour amongst the vacationers to Bali. But let me warn you, you will not be getting the luxurious treatment over there.
So instead, head over to Nusa Penida, an undeveloped desert-island located near Bali's southern part. For perfect relaxation, the Bintang Bungalows will cater to all your needs, with its service and picturesque views from all the rooms!
Is Your Bucket List Ready, Yet?

From challenging your nerve from corner to corner of the unfathomable valleys to visiting the islet of the deceased or just lazing around a couple of days in a few of the outlandish villas, it is now time to get all geared up and explore the extraordinary world of Bali!